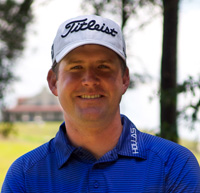 DJ Trahan (born December 18th, 1980) is an American professional golfer on the PGA Tour. He was born in Atlanta, Georgia and currently resides in Mt. Pleasant, South Carolina.
DJ Trahan burst into the PGA tour by joining the small fraternity of pros ever to win a tour event during their rookie season, yet due to his epic career as an amateur, his immediate success as a pro came as no suprise to the PGA. By the time Trahan led the Clemson Tiger golf team to the NCAA National Championship in 2003, DJ was already one of the most decorated collegiate golfers in the history of the sport. DJ won the Jack Nicklaus Award (voted by the College Golf Coach's Association) as the top player in the nation. He was also named the Player of the Year by the NCAA. He was a Ben Hogan Award honoree and he was also Golf World's top ranked collegiate golfer. In addition to a tremendous cache of NCAA and ACC trophies, honors, and records, Trahan was also named a 1st Team All-American and an Academic All-American.
Following a winning season on the Nationwide Tour in 2004, DJ began his PGA Tour career in 2005 and continued to exhibit the skill and technical consistency of a man who is destined to play the game at a very high level for a very long time. Over his first five seasons, Trahan has finished in the Top Twenty 39 times and the Top Ten 20 times, including his second tour victory in 2008 at the Bob Hope Chrysler Classic. At just 30 years old, Trahan has already earned over $8 million in career winnings. DJ is the son of the very popular PGA teaching pro/author Don "The Swing Surgeon" Trahan. "The Surge" is most respected for his revolutionary teaching concepts but is also famous for having made 18 official aces (holes in one) during his career.
On numerous occasions, golf analysts and commentators have stated that DJ has one of the simplest swings on the PGA Tour. The swing they are referring to is "The Surge Swing." It is the only golf swing DJ has ever used and the swing that's made him close to $10 million as a professional.
DJ Trahan is the youngest golfer in history to win a round in match play at the U.S. Junior Amateur, where he won a first-round match when he was just 13 years old (summer of 1994).
Awards and Honors:
All-ACC: 1st Team - 2000, 2001, 2002, 2003
ACC Freshman of the Year - 2000
ACC Player of the Year - 2002
All-American - 2000 (Honorable Mention, 1st Team Freshman), 2001 (Honorable Mention), 2002 (1st Team), 2003 (1st Team)
Ben Hogan Award - 2002 -Jack Nicklaus Award - 2002
ACC 50-Year Anniversary Golf Team - 2002 (only active collegiate golfer named to the list)
Carolinas Golf Association Player of the Year - 2000, 2001, 2002
Collegiate wins:
Las Vegas Intercollegiate - 2000
Carpet Classic - 2001
Jerry Pate Invitational - 2001
NCAA East Regional - 2002
Mercedes-Benz Intercollegiate - 2003
Amateaur Wins:
U.S. Amateur Public Links - 2000
Jones Cup, South Carolina Amateur - 2001
Azalea Invitational, Monroe Invitational, South Carolina Amateur - 2002
Professional Wins:
Nationwide Tour: 

Miccosukee Championship - 2004 

PGA Tour:

Southern Farm Bureau Classic - 2006
Bob Hope Chrysler Classic - 2008