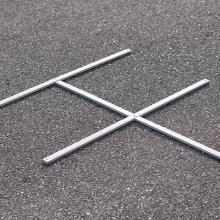 Alignment, alignment - one of the core teachings of the PPGS swing. The best swing and golf striking in the world can be spoiled by not aiming correctly at your target. You have seen these alignment arrows featured in nearly all of Don's videos as well as countless daily videos. We discovered a box of these alignment arrows manufactured some time ago and as such these are a limited supply. The arrows are meant to be easily stored and carried in a golf bag. The set includes three pieces which join together to create a golf alignment aid. The arrows have holes in them to accommodate staking with a golf tee.
These are new old stock. Some arrows may be different colors due to age but are structurally sound.
Shipping will be via US Postal Service priority mail only. Due to the quantity of product we have and complexity of overseas shipments these will be sold within the United States only.