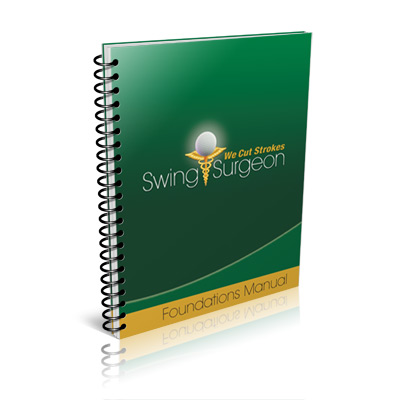 Based on PGA Master Professional Don Trahan's best-selling book, "Golf, Plain and Simple", originally published by Harper Collins, this is an expanded and updated version of the swing book that is, quite literally, changing the golf world. Over one million copies sold worldwide in just 24 months. The Foundations Manual is required reading for anyone who is serious about learning the only golf swing that is proven to follow the laws of physics and physiology. Mastering the principles in this 112-page illustrated book will get you hitting the ball further with greater accuracy than you ever thought possible!
The Foundation Manual has recently undergone a major revision to correct grammatical mistakes, misspellings, and labeling. Additional content has been added by Don that includes five pages of new content within Chapter 5 that is dedicated to the topic of Stance.
Revised: December 2014. Version 2.0
Note: This product is included if you purchase the Fundamentals of the Peak Performance Golf Swing Video! And is only available as a digital download, no printed manuals are available.
Peak Performance Golf Swing Foundation Manual : Trailer Video