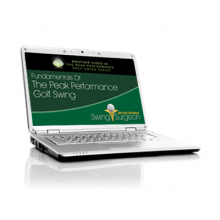 This is it. The ultimate package for the most "body friendly" golf swing available today. Nobody comes close!
Developed by Don Trahan, a PGA Master Professional, and a former Golf Magazine "Top 50 Instructor," this proven method has changed the game for PGA and LPGA Tour players as well as thousands of other amateur golfers just like you. This is an online version of the lesson package, which covers the fundamentals of the famous "body friendly" Peak Performance Golf Swing system that's been featured all over the golf and sports media for almost 30 years. (If you wish to purchase the two-disk DVD set in addition to digital access, please select the "Hard Copy DVD" option from the Video Type drop-down box, above.)
If you want instant game improvement, this is extraordinary stuff!
You can start your first lesson immediately after your payment has been accepted, even if you have ordered the 2 DVD set.
Also including Surge's "Myths, Misconceptions, and Lies" and other bonus videos, the PPGS Foundation Series includes over 4 hours of in-depth instruction on all facets of the golf swing.
NOTE: This fundamental set of videos also comes packaged with The Surge's 112-page illustrated PPGS Foundations Manual,  a $19.99(digital) value if purchased separately.
Runtime: 256 minutes
Fundamentals of The Peak Performance Golf Swing Package : Trailer Video